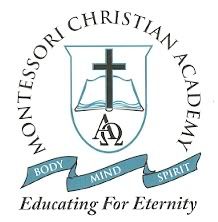 Montessori Christian Academy of Mandeville, Louisiana is a private nondenominational Montessori school. Our program offers a quality Montessori Christian education that is stimulating, nurturing and secure. We are the only state accredited Montessori school with the department of education in Mandeville,La. At Montessori Christian Academy we strive to give children a strong foundation spiritually, academically, and socially. Our mission is to develop the body, mind and spirit of each child so they can discern right and wrong, good and evil, truth and untruth. Our goal is to educate for eternity using the Montessori Method created by Maria Montessori.
We believe MCA was a vision created by God impressed upon our hearts to be fulfilled. The partnership of Ms. Mary and Ms. Peggy is a special bond. Their passion for God, children and the "Montessori Method" is equally shared. Both partners believe God brought them together for His glory and purpose. With a combined experience of 31yrs in Montessori they have witnessed firsthand how accurate Maria Montessori was about "the absorbent mind" of a child. Montessori stated "show me a boy at six and I will show you the man he will be." It is our purpose to develop independent, educated, responsible Christian children who will shine God's light throughout their life.
MCA begins with 12month old babies, and currently have students through Kindergarten.Our future plans include an Elementary program. We would also like to include a special education class using the Montessori Christian environment and philosophy. We know this class is needed desperately, especially for the high functioning child with disabilities who seem to get lost in a traditional classroom environment.
Montessori Christian Academy looks forward to a future of growing and enriching children's lives for generations, and we invite you to contact us with any questions or to schedule a tour.
                                                                            Montessori Christian Academy non Discriminatory act
Montessori Christian Academy L.L.C. affirms its non discriminatory policy on the basis of race, sex, color, age, handicaps, national or ethnic origin in its educational programs, activities, and employment policies in accordance with Title VI Civil Rights Act of 1964, Title IX of the 1972 Revenue Procedure.